Der VFTH e.V. präsentiert Forschungsergebnisse gewonnen aus Daten erfasst mit smart medication™
WFH 2012
World Congress in Paris (July 8-12, 2012)

smart medication™ - a new telemetric smartphone application for monitoring and evaluation of hemophilia home treatment

W. MONDORF, H. POLLMANN, B. SIEGMUND, D. SCHMOLDT and A. RÖSCH; Haemostas, Frankfurt; ITH–Institut für Thrombophilie und Hämostaseologie, Münster; Philipps-Universität, Marburg, Germany
Poster Num.: PO-MO-015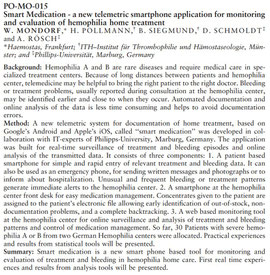 Smart Medication - a new telemetric smartphone application for monitoring and evaluation of hemophilia home treatment
Hemophilia A and B are rare diseases and require medical care in specialized treatment centers. Because of long distances between patients and hemophilia center, telemedicine may be helpful to bring the right patient to the right doctor. Bleeding or treatment problems, usually reported during consultation at the hemophilia center, may be identified earlier and close to when they occur. Automated documentation and online analysis of the data is less time consuming and helps to avoid documentation errors.
2012_WFH_PO-MO-015.pdf
Adobe Acrobat Dokument
117.6 KB
GTH Tagung 2012 
Jahrestagung der Gesellschaft für Thrombose- und Hämostaseforschung (GTH). 01.-04. Februar 2012, St. Gallen/Schweiz

"Improved surveillance of haemophilia home treatment using a telemetric smartphone application"
D. Schmoldt, A. Rösch (Philipps-Universität Marburg, Germany)
W. Mondorf (Haemostas, Frankfurt, Germany)
H. Pollmann, B. Siegmund  (ITH – Institut für Thrombophilie und Hämostaseologie, Münster)
Poster Num.: P2-59
Link auf die GTH-Website.